Past not a barrier to Irish presidency - McGuinness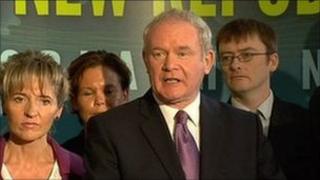 Martin McGuinness has insisted that his past as an IRA commander should not prevent him becoming Irish president.
Sinn Fein confirmed on Sunday it was backing Mr McGuinness' bid to become head of state in the October poll.
He said: "Are people saying because I was a member of the IRA in the past that I have no role to play in the future for all the people of Ireland?"
He added that he had made an "immense contribution to peace" and was fighting the election to win.
Mr McGuinness accused the media of being fixated about his past and sensational headlines about his time in the IRA.
"I remember I think it was 1974, I am open to correction but I think it was the early 1970s, an ITN reporter reported that I had boasted about killing eight soldiers in the Free Derry area, that was a total and outright lie," he said.
"I would say if I get into answering question for question the questions of the media in that regard, I will be answering those from now until kingdom come."
Mr McGuinness said voters had no such preoccupation and that he had put himself before the electorate on "countless occasions" since 1982, gaining election as an MP for Mid-Ulster in 1997.
"In election after election people are well aware (of my past) and have come out in their droves to vote for me knowing that I am absolutely dedicated and committed to a new way forward and I live in the here and now," he added.
"I have answered all these questions in the past, I have no concerns whatsoever about going into this election campaign, I stand on my record."
He said he did not think he would have been invited to meet with three American presidents, Nelson Mandela, or the president of the European Union if people had thought his credentials "in relation to the search for peace were in any way in doubt."
'Absolutely no involvement'
UUP leader Tom Eliott said unionists would feel more comfortable with Mr McGuinness' candidacy if he disclosed some of his activities with the IRA.
He referred specifically to the death of Patsy Gillespie in the so-called proxy bombing of a Derry army barracks in 1990.
Mr Gillespie, who worked as a cook in the barracks, was made to drive a bomb into the complex while his family was held hostage. It exploded, killing him and five soldiers.
Speaking on Radio Ulster's Good Morning Ulster, McGuinness said he had "absolutely no involvement" in the attack.
He added: "I wasn't a member of the IRA when that happened. I was never arrested nor questioned about that by the RUC at that time."
The Mid-Ulster MP has received support for his candidacy from the brother of an IRA bomb victim.
Mark Eakin, who lost his eight-year-old sister Catherine in the 1972 Claudy bomb attacks, said Mr McGuinness, then second-in-command of the Provisionals, would make a good head of state.
He said: "You have to look at the broader picture - is it a bad thing for him to be the Irish president? I don't think so.
"He now wants to have a good Ireland. I think everybody has got to step back and bite the bullet."
DUP MP Gregory Campbell said that Mr McGuinness' past should not be forgotten.
He said: "He said in answer to a reporter that he had made peace wherever he had gone.
"I don't know what sort of place he thinks people are living in. Northern Ireland and Londonderry in particular are picking up the pieces from the 30 years that we endured because of his organisation."
'Immense contribution'
In the Irish general election earlier this year, Sinn Fein won 10% of the vote and 14 seats in the Irish parliament - its best performance in the modern era.
Despite political commentators indicating that he will have to win a considerably higher percentage to prevail in the 27 October poll, Mr McGuinness is some bookmakers' favourite and said he was in the contest to win.
He added: "I am putting myself forward as someone who has made an immense contribution to peace in Ireland.
"As someone who has empathy with the Irish people at a time of great economic difficulty - someone who wants to inspire a conversation about a new republic."