Man fined for 'guns in bag' at City of Derry airport quip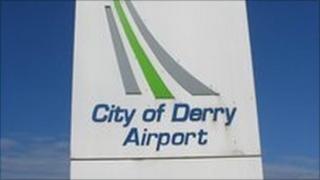 A man who told security staff at City of Derry airport that he had guns in his hold-all has been fined £200 and given a conditional discharge.
Patrick Hugh Morgan, 58, of Whitehall Gardens, Ballycastle, was charged with making a false declaration to security staff and resisting police on 23 July.
The court was told that Mr Morgan was waiting for a flight from City of Derry to Stansted and had been drinking.
He said to police that he had been joking.
Londonderry Magistrates' Court heard that when Mr Morgan was told he was being arrested for making the statement, he became aggressive and began kicking out at officers.
When he was arrested for resisting police, he is reported to have said "you're a joke, nothing has changed".
Defence Solicitor, Paddy McDermott, said his client now knew not to make such comments.
The judge said that Mr Morgan was lucky that there had not been more serious consequences such as the evacuation of the airport.
He told Mr Morgan that his joke was in "no way funny".