UVF supergrass case: Judge questions Stewart over interviews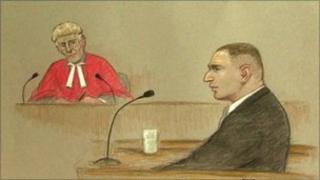 The judge in Belfast's supergrass trial has asked a witness how he got certain matters wrong in initial police interviews.
Mr Justice Gillen told Robert Stewart he might understand how some details could be forgotten, but not more general impressions of events.
Stewart is testifying against 14 men, including alleged former UVF commander Mark Haddock.
Nine of them are accused of the murder of UDA man Tommy English.
Mr English was shot dead in front of his wife at his home in the Ballyduff estate in Newtownabbey on Halloween night in 2000, during a feud between the UDA and the UVF.
Both the UVF (Ulster Volunteer Force) and UDA (Ulster Defence Association) are loyalist paramilitary groups responsible for the murder of hundreds of people during the Troubles.
The trial is the biggest and most expensive to be held in Northern Ireland for many years.
The 14 defendants are being represented by 24 barristers and eight firms of solicitors and the trial is expected to last for 11 weeks.
The term supergrass was first used in Northern Ireland in the 1980s when a number of terrorist suspects were convicted on the evidence of former comrades.