Alex Attwood says illegal dumping could cost over £30m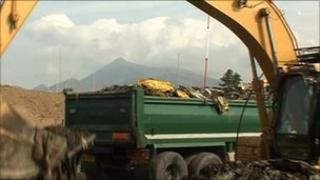 Removing all the waste from illegal dumping sites in Northern Ireland could cost upwards of £30m, it has been revealed.
Environment Minister Alex Attwood made the announcement on Monday.
He was giving a statement to the assembly on the twelfth meeting of the North South Ministerial Council (NSMC).
Mr Attwood also said two of the 17 illegal sites have been repatriated with the others due to be cleaned up within five years.
He added that there have been 15 confiscation orders to the sum of £1.7m in relation to environmental crime in Northern Ireland since 2008.
Mr Attwood also spoke about waste management, cross-border movements of waste and the implementation of the EU water framework directive.
Environment committee deputy chair Simon Hamilton welcomed the progress of cross border movements of waste but sought assurance that it was under much more control than it had been previously.
Answering questions from members, the environment minister said waste would be removed from a site at Ballymartin by the end of October, and said he would be publishing the total cost of cleaning up all sites.