Maire Rankin murder: 'Sex assault followed killing'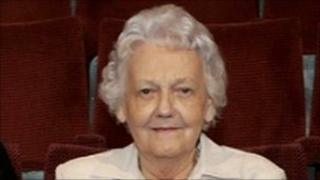 A Newry pensioner may have been sexually assaulted after she was murdered, a trial has been told.
Maire Rankin, 81, was found dead in her home on the Dublin Road in Newry on Christmas Day 2008.
On trial charged with her murder is her next door neighbour, Karen Walsh. Ms Walsh, 45, denies the charge.
Belfast Crown Court was told Mrs Rankin had been subjected to a sustained assault which left her with a serious head injury and 15 broken ribs.
The Crown claims Karen Walsh carried out this attack and that a crucifix was used to hit the elderly woman in the face.
A post mortem examination also found bruising to the pensioner which the prosecution claims may have happened during a sexual assault after her death.
Opening the case, Liam McCollum QC said there was DNA evidence which linked the accused to the killing along with telephone records.
Mr McCollum said it appeared that Ms Walsh sat on Mrs Rankin to carry out a "sustained" assault which left her with serious head injuries and broken ribs.
He warned the jury that they would hear distressing and harrowing evidence during the trial which is expected to last up to four weeks.
Ms Walsh accepts she had gone to the house on Christmas Eve night to have a drink with Mrs Rankin.
However, she claims she spent half an hour there and when she left Mrs Rankin was in bed.
Witness breaks down
Later, Mrs Rankin's daughter Brenda told the court her mother had been due to spend Christmas Eve with her in Loughbrickland but decided against it at the last minute because she wanted to give herself one more night in her own home to get over a bad cold.
"I wished I had persuaded her now," she said. "It was the only time in her life that she'd spent Christmas Eve on her own."
The elderly relative who found the pensioner's body broke down in the witness box after he was shown photographs of her body.
Mrs Rankin's brother-in-law Arthur Morgan noticed the victim's normally neat and tidy living-room was in disarray with presents scattered around the floor.
He went upstairs and found ornaments lying at the top of the stairs, but Mrs Rankin did not answer when he called out her name.
He said her bedroom was "like a battle zone" and he thought there must have been a fight because clothes were strewn about. He then saw Mrs Rankin's naked body on the floor.
He said he knelt down beside her and slapped her face before trying to open her lips to breathe into her but he realised she was dead.
The case continues.