Reavey brothers' mother robbed in south Armagh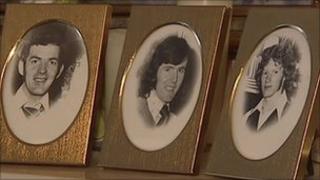 The mother of three brothers shot dead by the UVF in the 1970s has been robbed in her south Armagh home.
Sadie Reavey was left unhurt, but shaken, after a gang broke into her home in Whitecross. A television, cash and benefit books were stolen.
Mrs Reavey did not see the robbers and only became aware of the break-in when a relative called to see her at about 22:00 BST on Saturday.
Three of Mrs Reavey's sons were murdered in 1976.
Her son Eugene said the whole community had been left shocked by the robbery.
"I would think maybe it's just some misguided youths that came in and did this," he said
"I would appeal to them if they have anything in them at all to return our goods or come and see me and give them to me and that'll be the end of it."
Brothers John Martin, Brian and Anthony Reavey were shot dead in their home in January 1976.
On the same night, loyalists also murdered three members of the O'Dowd family.
The day after those killings, 10 Protestant workmen were murdered by the IRA at Kingsmills in south Armagh.