Four rescued from 'deliberate' north Belfast fire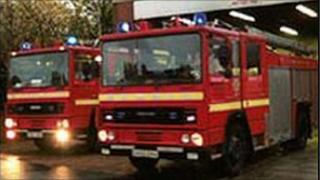 Four people have been rescued from a fire in north Belfast on Monday afternoon.
The Fire Service said the blaze, which took place at a block of flats at Glencairn, was started deliberately.
One man has been treated for breathing in smoke, whilst three of the people had to be rescued from a second floor flat.
Alan Walmsley of the fire service said some residents had ignored a fire alarm.
"On arrival we were faced with the situation where nobody had evacuated from the building," he said.
"On speaking to some to the residents they were saying that they ignored the alarm because it had gone off on previous occasions.
"It's almost like the cry-wolf syndrome where, when we actually need them to evacuate the building, because they think it's a false alarm they don't do so and stay inside their flats."