Irish economy shrank by one fifth during recession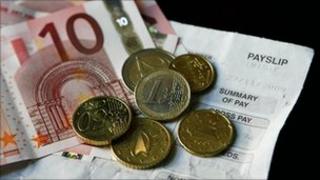 The output of the Irish domestic economy shrank by more than one fifth between 2007 and 2010, according to new official figures.
The figures for Gross National Product (GNP) are in the annual report of the comptroller and auditor general.
GNP represents the amount of output of the Irish economy, excluding multinational profits.
Many multinationals funnel capital through the Republic of Ireland due to its low corporate tax rate.
In 2007 Irish GNP was 163bn euros but by 2010 it had fallen to 128bn euros - a drop of over 21%.
The figures illustrate just how severely the Irish economy has been affected by a property and banking crisis.
It is almost a year since the country had to be bailed-out by the EU and IMF as the debts incurred by the Irish banks became too great to bear.
Irish citizens can expect at least another three tough austerity budgets as the government attempts to tackle the debt problem.