Corporation tax cut four years away: Sammy Wilson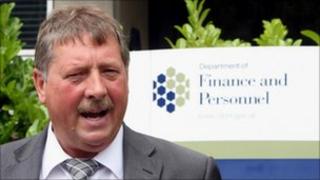 The Finance Minister Sammy Wilson has indicated that it will be at least four years before the corporation tax level in Northern Ireland is cut.
The Chancellor George Osborne is expected to announce shortly whether the power to set the tax rate can be devolved to Stormont.
It follows a sustained lobbying effort by business leaders.
They want the rate to fall from 26% to the 12.5% levied in the Republic of Ireland.
However, Mr Wilson said he thinks it unlikely a reduction will be implemented during the current assembly.
"I don't believe that we are going to see a reduction in the rate of corporation tax within the lifetime of this assembly - it will be after that," the DUP minister told MLAs on Monday.
"There has been no provision made in the current four-year budget for the devolution of corporation tax so even if we got it down to say a figure that is manageable there would still be an impact, unless of course it is phased in or deferred."
The tax cut would have to be accompanied by a proportionate reduction in the block grant - the money Northern Ireland gets from the Treasury. That could be a cut of more than £400m a year.
Mr Wilson said there would have to be "very hard negotiations with the Treasury" over the autumn to make sure the bill for cutting the tax is sustainable.