No full time jobs for 95% of new teachers - DUP MLA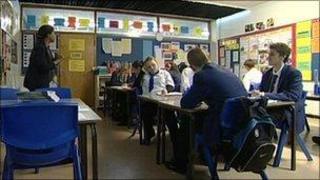 Up to 95% of new qualified teachers are unable to secure full time jobs according to a DUP assembly member.
MLAs are due to debate concerns over the number of new teachers later.
However the DUP has said there is a massive oversupply of trained students for the limited number of jobs available.
Jonathan Craig, who is proposing the motion, said that only five per cent of those who qualified last year found full time employment.
He said he wanted to know why the number being trained had not been slowed given the fall in the population.
"A lot of them are purely surviving on filling in for people going off on maternity leave and sick leave," he added.
"I think those (roles) are becoming increasingly limited as schools come under huge pressure with regard to their budgets as funding dries up.
"We are at a position now where sickness levels are falling and schools themselves are forced into laying people off, so all of the ability for schools to absorb people on a part time basis I think is becoming increasingly less."
Mr Craig said the Department of Education needed to reduce the number of training places or introduce a scheme that allows trained students to gain teaching experience in a school environment.
Richard Troupe has applied for 20 teaching posts since graduating from his teacher training course at Queen's University in 2009 and obtained two short-term contracts.
He said only five of the 22 people on his course had gained permanent employment.
"A few other teachers have completely given up on it and are now working in any job they can find whether it be an administrator in an office or a supervisor in retail," he added.
"There isn't that retention of teaching graduates and a lot of them including myself have become very cynical."
Geraldine Morrison from Belfast finished her teaching training this summer.
She has secured two weeks of substitute teaching, but worries about her long-term employment prospects.
"Two weeks is amazing right now, there are people who don't even have a day yet," she said.
"You don't know what the future will hold and I am just hoping that something opens up throughout the year, but it is hard not having that stability."