Debate over new Antrim golf resort at Giant's Causeway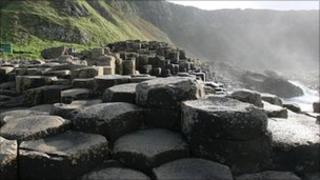 Controversy continues over plans to build a new golf resort on the Antrim coast between Bushmills and the Giant's Causeway.
The proposals have already spent ten years in the planning stage.
But now the government wants to cash in on the recent success of Northern Irish golfers Darren Clarke, Rory McIlroy and Graeme McDowell.
The National Trust opposes the plans, which it says could threaten the UNESCO world heritage status of the area.
The plans are supported by all of Northern Ireland's main political parties, and it is claimed that the project could inject up to £90m into the local economy.
MP for North Antrim Ian Paisley Jr told the BBC that it was a "national scandal" that the application has been delayed for so long by planning officials. He said that the resort would be a "tourism gem" and a much needed boost for one of Northern Ireland's most deprived areas.
The minister for trade, enterprise and investment Arlene Foster said: "The spotlight has very much come on Northern Ireland in respect of golf tourism and even without those three champions I believe there was a need for a golf resort along the north coast.
"There is a need for better accomodation and more accomodation on the north coast, and as economy minister and as tourist minister, I believe that's what should happen."
'Beautiful landscape'
However, the National Trust has long taken a stand against the project, and warns that a desire to boost the economy should not come at the expense of the environment.
A spokesperson for the trust told the BBC: "[The proposal] is in an area that is already protected and should remain protected. People come to Northern Ireland because the landscape is so beautiful.
"We shouldn't be developing on places that is inappropriate."
The environment minister Alex Attwood has promised to fast-track the decision, and has instructed planning officials to bring him their recommendations within ten weeks.