Murdered pensioner Maire Rankin 'was alert and active'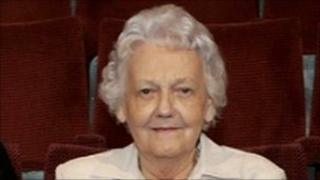 The children of a Newry pensioner have been telling a court about the effect her murder has had on their close-knit family.
Maire Rankin, 81, was found dead at her home on the city's Dublin Road on Christmas Day in 2008.
Mrs Rankin's neighbour Karen Walsh, 45, is accused of her killing.
On Tuesday, Belfast Crown Court was told that Mrs Rankin was an alert, active and independent woman who was adamant she would remain so.
Three of her eight children gave evidence - her daughters Brenda and Mairead and her son Diarmuid.
They said that Christmas Eve she had been in good form, "house-proud, happy and full of fun".
However, she had also been ill with a chest infection causing her to spend an extra night at home.
They all joked that Mrs Rankin had opened some of her presents a few days early.
Diarmuid Rankin said a Christmas present for Ms Walsh's son was in Mrs Rankin's front room, waiting to be delivered.
Ms Walsh denies the murder.
She says she did go to the house on Christmas Eve night to have a drink with Mrs Rankin.
However, she claims she spent half an hour there and when she left Mrs Rankin was in bed.
The prosecution had said they had a witness who had seen Ms Walsh early that Christmas morning, sitting on a low wall outside Mrs Rankin's home at around half past seven.
However, her neighbour Paul Rafferty told the court on Wednesday that although he had seen a woman in a red top, he could not be sure it was Karen Walsh a woman to whom he had never actually spoken.
Shown a red and grey striped top in court, he said it was similar to the one he saw the woman wearing, but he could not be certain it was the same one.
The case continues.