Surprise at Sammy Wilson corporation tax comments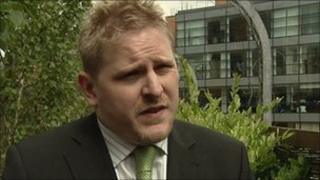 Supporters of lowering corporation tax in Northern Ireland have expressed surprise at an announcement that it will not be cut in this assembly term.
On Tuesday, Finance Minister Sammy Wilson said there was no provision for introducing the power to cut the tax.
Some of those backing a cut have said they would prefer a shorter timeframe.
Economist Neil Gibson said the business community needed to feel the executive was "putting its shoulder to the wheel".
"That will be another four years that will have passed in the world economy and more investment that Northern Ireland will have potentially missed out on," he added.
BBC NI economics and business editor Jim Fitzpatrick said that a debate over timing was "academic" at this stage.
He added: "The Treasury has not yet decided to grant Stormont the power over the tax. Nor has a price been set.
"With the estimated annual cost to the Stormont budget thought to currently sit somewhere between £400m and £500m, announcing that it cannot happen within this budget period may simply be a statement of the obvious."
Mr Wilson has said there will be "very hard negotiations with the Treasury" over the autumn to make sure the bill for cutting the tax is sustainable.