All Northern Ireland beaches pass EC water quality tests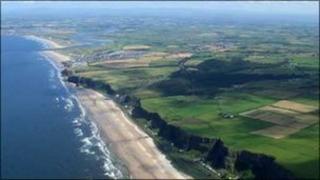 All 24 of Northern Ireland's major beaches passed the EC Bathing Waters Directive standards for water quality in 2011.
Environment Minister Alex Attwood said this was the best result for Northern Ireland's beaches since 1996.
"This is good and improving news for our beach users and shows investment in all areas of water quality management is paying dividends," he said.
However, he added more still needed to be done.
The minister said even more demanding EU directives were on the horizon.
"That is why I am holding the second Good Beach Summit (on Wednesday) to ensure all key players work together," he said.
"Improvements will have to continue, because standards for public health protection are changing.
"The revised Bathing Waters Directive is raising the bar and water quality standards will be even more demanding. By 2015 permitted bacterial levels will reduce by around 50%.
"Many of our bathing waters already achieve this standard, but others will not meet the tighter standards."
Twenty of Northern Ireland's beaches achieved the higher guideline standards in 2011 and will be eligible, on water quality criteria, to apply for the Blue Flag award in 2012.
The other four beaches still passed the required level but at the slightly lower mandatory level.