Chinese restaurant owner 'told he would be chopped'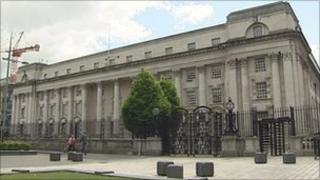 A restaurant boss allegedly had a meat cleaver held to his throat and was told he would be chopped unless he came up with £20,000, the High Court has heard.
Prosecutors also said telephone threats were made to kill him and his family if the money was not handed over.
The alleged intimidation arose out of a dispute over the planned sale of another Chinese restaurant in Belfast.
Shu Xiong You, 36, of Sloan Street, Lisburn, faces charges of blackmail, threats to kill and burglary.
He is also charged with possession of an offensive weapon.
He was granted bail but banned from entering Ballynahinch, County Down, where he is alleged to have menaced the victim.
The court was told Mr You had put down a £5,000 deposit to take over the lease on a south Belfast restaurant.
However, it was later sold to someone else, and the accused's money was not returned to him because he had been late with other monthly payments, according to the prosecution.
It was claimed that Mr You confronted the alleged victim in June at the Ballynahinch premises where he worked.
Crown counsel David McClean said: "It is alleged that he entered the kitchen area of the restaurant, lifted a meat cleaver and held it to the throat of the injured party.
"A chef in the restaurant intervened to prevent Mr You from striking (the man) with the meat cleaver.
"The applicant is alleged to have shouted he wanted £20,000 in two days or he would come back and chop him."
According to the prosecution Mr You later claimed the money owed was based on £500 a week interest accumulated over the previous year.
He was arrested and admitted going to the restaurant to ask for his £5,000 back, but denied making any threats.
A defence lawyer said the dispute has now been resolved.
"The likelihood of the parties coming into contact with each other has been lessened," he added.
Mr Justice Treacy granted bail to Mr You on condition that he is excluded from Ballynahinch and has no contact with the alleged victim.
The judge also ordered him to surrender his passport to the authorities.