Video blackmailers Braniff, Kearney and McKee jailed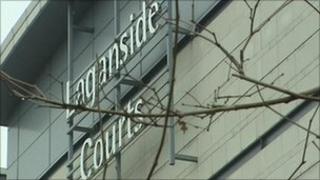 Three blackmailers who demanded £50,000 from a County Antrim businessman have been jailed for four and a half years each.
Paul Braniff, Michael Kearney and Eugene McKee had all pleaded guilty to a single count of blackmail.
They were part of a gang which had threatened the businessman with releasing a video of a "personal nature" to the press.
Two other gang members were given suspended sentences last week.
Braniff, from Windmill View, Ballynahinch, McKee, 54, from Woodside Drive in Dunmurry and Kearney of no fixed address must serve a further 18 months on probation after their jail time.
Belfast Crown Court Judge Patrick Lynch QC told them that according to defence submissions, "the police have caught all of the Indians and no chiefs".
The judge added that while they had admitted blackmail, they had only done so "at the 59th minute of the 11th hour" when it was clear their victim, known only as Witness A, was going to testify against them.
Judge Lynch revealed that Braniff has almost 200 previous criminal convictions and that while most are for road traffic offences, he has been before the court for witness intimidation, robbery and serious assaults while McKee has an "appalling record".
He said that McKee had convictions for membership of a proscribed organisation, hijacking and possessing a gun, conspiring to cause an explosion and possessing explosives, firearms and ammunition for which he was jailed for 18 years.
The extortion started after the businessman's car containing the video was stolen in 2001.
However, most of the offences happened in 2007.