Sammy Wilson hits out at Vince Cable on economy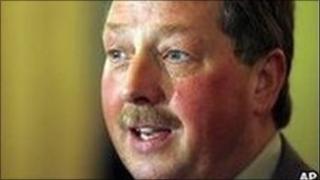 The Finance Minister has criticised the Liberal Democrat business secretary over his bleak assessment of the UK economy.
Vince Cable told his party conference that "we now face a crisis that is the economic equivalent of war".
But Sammy Wilson took issue with the comment and said that Mr Cable was just looking for headlines.
The finance minister told the Stephen Nolan Show that he was trying to increase confidence in the economy.
"I think that Vince Cable sometimes aims more at getting his name in the papers than really thinking of the consequences of some of the things he says," said Mr Wilson
The DUP politician added: "One of the things I'm trying to do as Finance Minister is actually to encourage some confidence in the economy, not talk the economy down.
"Of course, we know there are things which are happening at present which are detrimental to the economy.
"Nevertheless, there are many positive things happening."