Man 'slashed with samurai sword' in Derry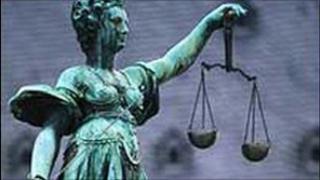 A man was slashed with a samurai sword after being asked to leave a flat in Londonderry, the High Court has heard.
He was cut on each side of the head and on the thigh as violence flared at the home of the alleged attacker.
Ryan Flanagan, 28, of St Joseph's Avenue in the city, faces a charge of grievous bodily harm with intent in connection with the assault.
He was granted bail today on condition that he keeps out of the cityside of Derry.
David McClean, prosecuting, said the victim and another man had been at Mr Flanagan's home on February 2 when at least one of them was told to leave.
He claimed the accused then produced a samurai sword from the kitchen area, began to swing it and inflicted the injuries.
The victim sustained lacerations to both sides of his neck and thigh, and was released from hospital the same night.
A defence barrister said his client claimed both the injured man and his "accomplice" were in his home without permission.
"The injured party accepts that they were asked to leave the property by Mr Flanagan," he told the court.
It was also claimed that the stabbed man said he did not want to proceed with the case, despite telling police he was prepared to press on with his complaint.
The judge ruled that Mr Flanagan should be released on bail but excluded from the cityside.
Mr Justice Treacy also imposed a night-time curfew, electronic tagging and a ban on contacting witnesses in the case.