West Belfast school swaps the classroom for comedy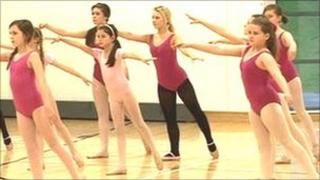 Think of your old school and quite often you will conjure up images of blackboards, jotters and pencil cases.
One school, however, is hoping to change that with initiatives it has set in place to raise valuable funds.
De La Salle College, formerly De La Salle Boy's Secondary School, in west Belfast opens the doors of its sports complex every evening and weekend to the local community.
Visitors are offered, among other things, spin classes, circuits and even trampolining. In fact, the facilities are so popular that lessons in Zumba and ballet dance take place several times a week.
"We love it here in La Salle because of the space" said ballet teacher Rana O'Brien, who hails from Turkey.
"This is my girls favourite venue for ballet classes."
The complex also boasts a fully functional gym which, by day, allows the students to keep fit and by night, allows almost 200 paying members to work out.
"When I'm at the gym quite often my son will be at basketball and my daughter at trampolining" said gym member Martin Bell.
"This was a dead part of Andersonstown and now it is lively, super, absolutely brilliant"
All of these services provide crucial funds to the school at a time when budgets are becoming tighter. Books, computers and school outings all benefit from the extra income.
But that's not all. In the past, the school has held concerts which have proved hugely successful and now it is branching out into comedy shows, the first of which is coming up in December.
Organiser Tony Williams said: "When we lose money from the education department every department in the school loses money out of their budget. This helps us put money back into the pot."
With everything else proving very popular at the school for the local community it looks as though the students will be laughing all the way to the bank if the upcoming comedy night is as successful.