Treasury capital spending move could be Stormont bonus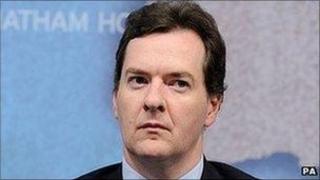 The NI executive could receive a spending boost of up to £170m if the Treasury goes ahead with a rumoured £5bn capital spending programme.
The BBC understands ministers are discussing the plan in an attempt to boost flagging growth.
Ulster Bank economist Richard Ramsey said under the formula used to allocate money to devolved governments, Northern Ireland could get up £170m.
The Treasury has denied planning such a move.
Mr Ramsey added that Stormont would have discretion on where the money goes so it would not necessarily be used for capital spending.
Capital spending is investment in things like roads, rail and broadband internet.
BBC political editor Nick Robinson said coalition ministers believed a £5bn capital boost would not represent a u-turn on deficit reduction since the Treasury's fiscal targets were based around current spending rather than capital expenditure.
Senior Liberal Democrat figures have said they "do not recognise" the £5bn figure.
"The government has set out its spending plans and is sticking to them," said a Treasury spokesman.