CCTV shows Derry man 'throwing petrol bomb' during parade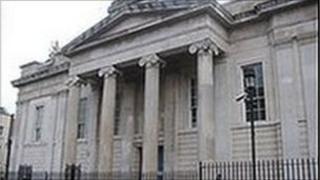 A man who was recorded on police CCTV throwing a petrol bomb during last month's Apprentice Boys parade in Londonderry has been remanded in custody.
Peter George Michael Carr, 23, from Brandywell Court in the city handed himself into police on Tuesday.
He is charged with 10 public order offences arising from disturbances in the Bogside area on 13 August.
Mr Carr is to appear again in court via video link on 13 October.
The offences he is charged with include throwing and possessing a petrol bomb, attempting to hijack a woman's car, assaulting the woman and riotous behaviour.
Applying for bail at the city's magistrates court, defence solicitor Kevin Casey said the defendant could not believe his actions when he was shown the police CCTV footage.
He said Mr Carr, who was heavily drunk at the time, accepted his involvement in the event shown to him.
Mr Casey said his client had no innate hostility towards the police, nor towards the Apprentice Boys, and he described the defendant's actions as an "aberrant piece of behaviour".
However, District Judge Mervyn Bates refused bail because of the serious nature of the charges and because of the fear of potential interference with witnesses.