UVF supergrass case witness Robert Stewart still unwell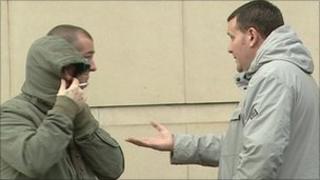 One of the key witnesses in Belfast's supergrass trial gave evidence for just an hour on Wednesday before being declared too unwell to continue.
It is the second day Robert Stewart has complained of illness. He is not expected back in court until Monday.
Earlier he revealed he had been having behavioural therapy in Maghaberry prison to deal with his violent past.
Stewart is testifying against 14 men, including alleged former UVF commander Mark Haddock.
He said he expected the behavioural therapy might last for years.
Barry Macdonald QC, defending David "Reggie" Miller, pointed out to him that at one stage he had threatened not to give evidence in court at all. Stewart said that was just "a wobble".
Mr Macdonald said to him: "You haven't changed at all. You are still as cunning, devious and unscrupulous as you were in the 1990s and the early part of the last decade".
Later Mr Stewart was questioned by Greg Berry QC, defending John Bond and agreed that he had mistakes about Mr Bond being present at some punishment beatings.
After a short recess, the court heard that Mr Stewart had taken ill again.
Later, agreed witness statements were read out in court, including a chilling account by Archibald Galway about how he was kidnapped and beaten by a gang of masked men in May 1996.
Stewart has already faced seven days of cross-examination from defence lawyers.
Nine of the accused are charged with the murder of UDA man Tommy English.
Mr English was shot dead in front of his wife at his home in the Ballyduff estate in Newtownabbey on Halloween night in 2000, during a feud between the UDA and the UVF.
Both the UVF (Ulster Volunteer Force) and UDA (Ulster Defence Association) are loyalist paramilitary groups responsible for the murder of hundreds of people during the Troubles.
The trial is the biggest and most expensive to be held in Northern Ireland for many years.
The 14 defendants are being represented by 24 barristers and eight firms of solicitors and the trial is expected to last for 11 weeks.
The term supergrass was first used in Northern Ireland in the 1980s when a number of terrorist suspects were convicted on the evidence of former comrades.