9% of Irish mortgages in arrears, according to new research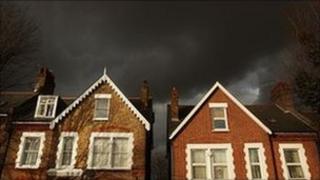 Almost 9% of Irish residential mortgages are in arrears according to new research by the credit ratings firm Moodys.
The research examined the performance of a pool of 55bn euros worth of mortgages in the three months to July.
It found almost 9% were 90 days or more in arrears - almost a third of that 9% were 360 days or more in arrears.
This is a deterioration compared to last month's official figures showing arrears had risen to 7.2% in June.
Moodys said more people were being pushed into arrears as they lost their jobs.
The unemployment rate in the Republic is 14.3% but Moodys expects it to rise to 14.5% this year.
There is a growing debate in the Republic about the possibility of large scale 'debt forgiveness' for troubled mortgage holders.
Consumers who bought houses with huge mortgages during the boom years are under increasing pressure and face little prospect of escaping from negative equity.
Some economists have suggested a scheme where mortgages would be reduced to a level "deemed affordable".
A High Court judge, Edmund Honohan, who deals with some repossession cases has also called for some form of debt forgiveness.
However the governor of the Central Bank, who is the judge's brother, has ruled out a blanket debt forgiveness scheme as has the Irish finance minster.