Charlie Armstrong murder: shotgun residue found on car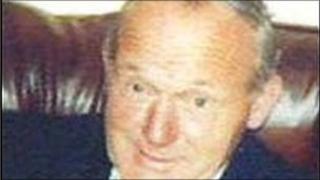 Shotgun residue was found in the car of a man abducted and murdered by republicans, an inquest has been told.
Charlie Armstrong went missing in 1981 on his way to Mass in Crossmaglen, south Armagh. His remains were found in a bog in County Monaghan in July 2010.
He is one of the Disappeared, 16 people abducted and murdered in the Troubles.
The Republic's state pathologist told the Dublin inquest the cause of death could not be determined but Mr Armstrong's skull was badly damaged.
"The skull was very badly damaged which may suggest there had been some injuries, but I can't prove it," Professor Marie Cassidy said.
A jury at Dublin City Coroner's Court recorded a verdict of death by unlawful killing and found Mr Armstrong suffered an unnatural and violent death at the hands of a paramilitary organisation.
Weighed down with stones
The IRA is believed to have abducted and murdered 57-year-old Mr Armstrong, one of the so-called Disappeared.
His remains - weighed down with stones - were found less than 300 metres away from the bodies of John McClory and Brian McKinney, whose murders were admitted by the IRA.
Geoff Knupfer, head of the investigation team with the Independent Commission for the Location of Victims' Remains (ICLVR), revealed Mr Armstrong's body had been too badly decomposed to determine an exact cause of death.
"Due to the age and state of the remains the cause of death was inconclusive," he added.
He also said a piece of twine found under the body may have been used as a bind.
Shotgun residue was found in the front passenger seat and boot of Mr Armstrong's car, located in Dundalk the day after he vanished.
Mr Armstrong's widow, Kathleen Armstrong, was supported in the courtroom by her five children and extended family.
She said 29 years after his disappearance, she was called to identify a number of personal items recovered from the bog, which included her late husband's dentures, a waistcoat he wore every Sunday, size seven brown slip-on shoes, socks and a St Brigid's Badge.
"I either stitched it on to his pocket or put it in there to keep him safe," she said.
Sixteen people were murdered by republican paramilitaries and secretly buried in isolated parts of Ireland during the Troubles.
Nine bodies of the Disappeared have been recovered.
The inquest into the death of another of the victims, 24-year-old Gerard Evans from south Armagh who vanished in 1979, will be heard in the same Dublin courthouse this afternoon.