Moroccan man told to leave Strabane at gunpoint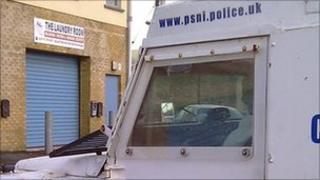 A Moroccan man who lives in Strabane has said he was threatened by gunmen and told to leave Northern Ireland.
Yousef Rhasrane makes deliveries for a laundry firm.
Mr Rhasrane said he had driven to Springhill Park on Tuesday afternoon when two masked men appeared nearby and pointed guns at him.
His wife's four-year-old grandson was in the car at the time and he said he feared the men would set it alight.
"I saw two boys shouting with masks and guns and they said stop," he added.
"I didn't stop, I ran and then went to McHugh's Oil to use the phone, because I had left the car behind me and the child was inside it.
"I was afraid they would go to the car and burn the car."