Glue sniffing Ardoyne rioter exposed himself court is told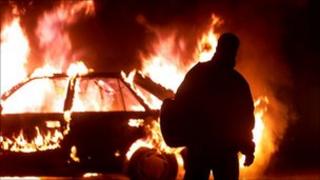 An alleged rioter was seen on CCTV sniffing glue and throwing a petrol bomb at police, a court has heard.
Prosecutors also claimed Kevin McFall, 18, exposed himself to officers during Twelfth of July trouble in Ardoyne, north Belfast.
He was charged after he was detained two weeks later for allegedly trying to smash up a taxi depot and beating the controller with a metal strip.
His bail application was refused due to the risk of possible re-offending.
Mr McFall, a father-of-one from Moyard Parade, Belfast, is accused of riotous assembly, possessing and throwing a petrol bomb, and indecent exposure.
He is separately charged with aggravated burglary, assault occasioning actual bodily harm, and assault on police.
A prosecuting barrister said the first set of alleged offences were connected to the serious and protracted public disorder in Belfast in July.
Vehicles were hijacked and burnt out, and police attacked by petrol bombs, paint bombs and fireworks during three nights of violence surrounding a disputed Orange Order parade.
Crown counsel David McClean claimed several police officers identified Mr McFall on footage participating in the rioting.
He is alleged to have thrown missiles and a petrol bomb.
Mr McClean said: "He is also seen on CCTV inhaling glue from a plastic bag and then exposing himself, both on the front and back, to police."
McFall denied involvement in the disorder following his arrest.
'Generic tracksuit'
The court was told he was only detained after an alleged attack on a taxi depot office on 30 July.
It was claimed that he assaulted the controller after being refused a taxi because he was drunk and aggressive.
At one stage during the incident the alleged victim locked himself in a back room, the court was told.
Defence counsel John O'Connor disputed the strength of the prosecution case, arguing that the alleged petrol bomber seen on CCTV was wearing a balaclava and a "generic" tracksuit.
"It's not a case where he (McFall) was identified positively by police officers," Mr O'Connor said.
The barrister added that his client claimed he was the one punched by the taxi depot controller.
But refusing bail, Lord Justice Girvan held there was a prima facie case against the accused.
The judge said: "It seems to me there is a clear risk of re-offending."