Elderly man's 21-hour RVH bed wait 'disgraceful'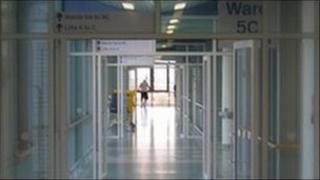 The chair of the health committee has described an elderly man's 21-hour wait for a bed at the Royal Victoria Hospital as "disgraceful".
Michelle Gildernew said it was "clear something needs to be done quickly" to avoid a repeat of the situation.
Seventy-five-year-old Tony Hill was left on a trolley for 21 hours after being admitted to the RVH on Tuesday.
The Sinn Fein MLA said she would be bringing the issue up with Health Minister Edwin Poots later on Thursday.
"I am angry and dismayed that anybody would have to spend 21 hours on a trolley waiting for a hospital bed, but an elderly person is particularly vulnerable," Mrs Gildernew said.
"Given that this person had been sent to the hospital by their GP, shows that there is a fundamental problem with how we deal with people as they arrive at A&E.
"I do not think that it is acceptable that there are three A&Es within a 10 minute drive of each other in Belfast and people are still waiting 21 hours."
She said that that the matter of people turning up unnecessarily at accident and emergency departments would also need to be addressed.
'Concerning'
Speaking to Evening Extra on Wednesday night, Mr Hill's daughter Paula Kane said there were 20 people on trolleys when she left her father at the RVH on Tuesday night.
Her father, whose condition had been described as "concerning" by a district nurse, was told there was going to be an all-night wait for a bed.
"A nurse came in on Tuesday night and said it was going to be a long wait for beds - some people had still been there from the previous night," she said.
"I'm very worried because there will be other elderly people who will go in and suffer the same situation and it is concerning that the health service is in such a state."
Mrs Kane said she also feared her father, who is bed-ridden, may not have eaten if she had not provided food.
She highlighted that this is the third time her father has been to A&E for the same problem. The last time he was forced to wait over four hours.
"This doesn't do a whole lot for a 75-year-old person when treated in this way," she said.
"It has left him very down and depressed."
A statement from the Belfast Trust said there had been an increase in patient numbers over the past two days.
"We would prefer that patients did not have to wait for beds and staff make every effort to organise this," it said.
"They also ensure that patients who need admission receive appropriate assessment, care and treatment and are kept as comfortable as possible while they wait for a bed to become available."
Garret Martin, the Deputy Director of the Royal College of Nursing said the Mr Hill's case was "unfortunately becoming more normal".
"As far as the Royal College of Nursing is concerned, this is unacceptable," he said.
"When you look at the A&E departments and the pressure they are under, the people who are waiting are generally very old, vulnerable people who are waiting for admission."