Mother of Jennifer Cardy recalls her last movements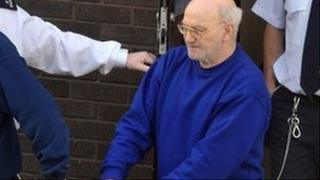 The mother of the murdered schoolgirl Jennifer Cardy has been recalling her movements on the day she went missing.
Patricia Cardy spent 20 minutes in the dock giving evidence at the trial of the man accused of abducting and murdering her daughter.
Robert Black, 64, who is originally from Grangemouth, Scotland, denies killing the nine-year-old, near Ballinderry in August 1981.
The prosecution allege petrol receipts link Mr Black to her murder.
Mrs Cardy told the jury at Armagh Crown Court on Thursday how she had set Jennifer's watch and wound it up just before her daughter set off to cycle to her friend's house about a mile and a half from the Cardy home.
She said the time read 14:20 BST.
Present
Mrs Cardy recalled that her daughter had wanted to be home in time for the children's programme, Jackanory.
She also told the court that Jennifer's bicycle had been given to her as a present, two weeks earlier.
The jury was shown a photo of Jennifer posing proudly with the red bicycle - it was later found thrown over a hedge close to her home.
Her body was found six days after she went missing, following a huge search operation.
The prosecution outlined their case against him on the opening day of his trial.
In August 1981, Mr Black was working as a delivery driver for a London-based poster company.
The prosecution said this role brought him to the Lisburn area on 12 August, the day Jennifer went missing.
The prosecution allege he stopped Jennifer before she reached her friend's house, abducted her, sexually assaulted her and killed her before dumping her body at a spot known as McKee's Dam, near Hillsborough.
Distressing
He denies the charge.
In court on Thursday, the Cardy family heard distressing evidence about what happened to her that day.
At one point, a photograph was shown in which her body could be seen floating in the water. Neither her family nor the accused showed any reaction.
The prosecution claimed petrol receipts would prove that Robert Black was in the area that day and would have driven by the spot known as McKee's Dam where the girl's body was found.
The trial is expected to last up to two months.