Caral Ni Chuilin 'to take care on twitter'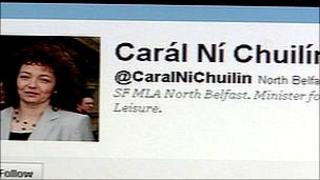 Culture Minister Caral Ni Chuilin has admitted she has to be careful on twitter after posting a derogatory tweet.
Ms Ni Chuilin called former Irish justice minister Michael McDowell a complete g******e in a tweet two nights ago.
Mr McDowell had appeared on a programme on RTE in which he criticised Martin McGuinness's IRA past.
On Wednesday, Ms Ni Chuilin tweeted: "Need to be careful on twitter."
She added "in danger of being satirical, witty, angry, analytic, funny, emotional, wry, critical etc - not ministerial".
While Ms Ni Chuilin was not available for an interview on Wednesday, the department of Culture Arts and Leisure said the minister manages her own twitter account.