New search service for Irish roots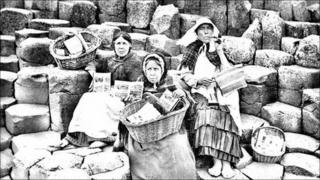 Three centuries of historic Irish records have just been published online detailing 40 million records of births, marriages and deaths in Ireland between 1742 and 1958.
The website, Ancestry. co. uk has incorporated 400,000 Irish parish records which will allow millions of people with Irish heritage around the world to dig deeper into their Irish roots.
The records feature famous people from Ireland, including CS Lewis, WB Yeats and Samuel Beckett.
However, the Ulster Historical Foundation has argued that a lot of those records are available for free.
Russell James from Ancestry.co.uk said: "We have made it far quicker to trace your family history. Forty million new records will help you trace right back to the 1700s. The records were already available, but it was difficult to get hold of them."
But Fintan Mullan from the Ulster Historical Foundation, said: "A lot of this really is not news.
"The Catholic Parish records have been on line for years now. There are 18 million records to search at rootsireland.ie which is the biggest all-Ireland resource.
"I don't think this is really much that is new. It is a competitor service to what we would believe is a much superior service. As a non-profit organisation working in this field for 25 years, we would say we are the real experts and there is no replacement for local knowledge and expertise."
Mr James acknowledged that rootsireland did "excellent work".
He said the Ancestry.co.uk service was not free although it was possible to search for free. What was different was the scope of the search, he said.
"We have seven billion records from all over the world. A lot of Irish people emigrated during the famine. You can follow them to America, Australia, different places, all within one service," he pointed out.