David Norris close to returning to presidential race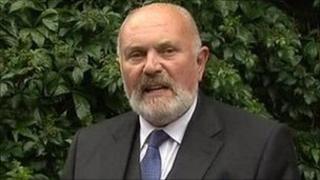 Irish senator David Norris is edging closer to returning to the Irish presidential race.
Last Friday he said he believed his comeback would be "the biggest in Irish political history".
He withdrew from the election campaign in August after it emerged he wrote to an Israeli court pleading for clemency for his former partner.
Ezra Yitzhak had been convicted of the statutory rape of a 15-year-old boy.
Under the Irish constitution presidential candidates require the support of 20 Oireachtas members or the backing of four county or city councils to secure a nomination.
The independent and openly gay senator is now only three signatures short of the quota.
Strong public support in a number of opinion polls has prompted his u-turn to get back in the race to become the next president of Ireland.
The deadline for nominations is next Wednesday.
Fine Gael candidate Gay Mitchell, Labour's Michael D Higgins, Martin McGuinness of Sinn Fein and independents Mary Davis and Sean Gallagher have already secured nominations to contest the election, which takes place on 27 October.
Four names are on the ballot paper, there may yet be five.