Widow of Tommy English tells UVF trial of shooting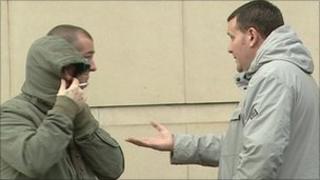 The widow of a murdered UDA leader has told a Belfast trial that her three children watched their father being shot.
Doreen English's voice broke as she recalled the UVF murder of her husband, Tommy, at Halloween in 2000.
She was giving evidence at a loyalist supergrass trial in Belfast.
Fourteen men, including alleged former north Belfast UVF leader Mark Haddock, are on trial facing a range of offences.
Nine of them are accused of being involved in her husband's murder.
Mrs English told the court in Belfast on Thursday that her children watched the shooting from the stairs of their home in the Ballyduff estate in Newtownabbey.
It happened during a feud between the UDA and the UVF.
Earlier, a witness - the alleged victim of a beating - refused to give evidence.
Alan Webster gave statements to the police about a beating in May 1996 allegedly carried out by some of the 14 men in the dock.
However, when asked by prosecution QC Gordon Kerr to look at the statements, he said he was not there to give evidence but to answer his summons. He repeated this answer several times when questioned.
Judge John Gillen warned him he could be held in contempt of court which could lead to a prison sentence. Mr Webster then said he had retracted the police statements.
Alan Webster's father John, brother Michael and another witness James Lovatt also refused to answer questions and received the same warnings.
Mr Justice Gillen told all four he considered them to be in contempt of court, granted them legal aid and said he would deal with it in a few weeks time
An application was made for the court to have the statements read out loud.
One of the two so-called supergrasses, Robert Stewart, is expected to resume giving evidence in the trial next week. He was too unwell to testify on Tuesday and most of Wednesday
Stewart is testifying against 14 men, including alleged former UVF commander Mark Haddock.
Nine of the accused are charged with the murder of UDA man Tommy English.
Both the UVF (Ulster Volunteer Force) and UDA (Ulster Defence Association) are loyalist paramilitary groups responsible for the murder of hundreds of people during the Troubles.
The trial is the biggest and most expensive to be held in Northern Ireland for many years.
The 14 defendants are being represented by 24 barristers and eight firms of solicitors and the trial is expected to last for 11 weeks.
The term supergrass was first used in Northern Ireland in the 1980s when a number of terrorist suspects were convicted on the evidence of former comrades.