Martin McGuiness presidency bid 'too early' says Roddy Doyle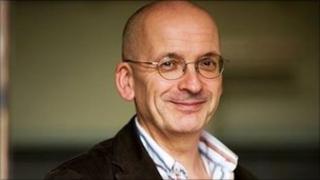 Best-selling Irish writer Roddy Doyle has said Martin McGuinness' entrance into the Irish campaign for a new president is "too early".
He told Radio Ulster's Evening Extra: "I think what Martin McGuinness and Gerry Adams and others in Sinn Fein have done is quite extraordinary.
"But it is way too early for self congratulations, I think. I don't quite believe when he has been asked when did he leave the IRA - I can't really believe 1974."
Mr Doyle said the contest for the Irish presidency had suddenly become "a very interesting election" after Mr McGuinness joined in.
"Bearing in mind that we have the anniversary of 1916 coming up, it seems to me what is up for grabs is who controls the definition of what it means to be Irish," he said.
"I think, personally, that Martin McGuinness past is not the past, it is the present. He is still alive and the people who were killed aren't alive, but those that they left behind are alive.
"He says it is in the past. I was listening to Joe Duffy on RTE radio earlier in the week and people who were kind of defending Martin McGuinness's decision referred to all the death as "all that".. three times three different people including an Irish TD called Finian McGrath referred to it as "all that" as if it was some sort of misbehaviour that we could put out of the way."
Mr Doyle said he thought the election would be about who owns the definition of Irishness or if anybody at all should own it.
"At the moment, I would probably be voting for Michael D Higgins," he said.
"When he was minister for arts, he had a huge role in opening up the country and in allowing the country to be defined by how it expressed itself."
He said that David Norris should have a chance to run.
He withdrew from the election campaign in August after it emerged he wrote to an Israeli court pleading for clemency for his former partner.
Ezra Yitzhak had been convicted of the statutory rape of a 15-year-old boy.
However, Mr Norris could still return to run for the presidency. Mr Doyle said he should have the chance to do so.
"I don't like the notion that there are guardians who can decide who can and can't run... I do think he should get an opportunity to run," he said.
The deadline for nominations is next Wednesday.
Fine Gael candidate Gay Mitchell, Labour's Michael D Higgins, Martin McGuinness of Sinn Fein and independents Mary Davis and Sean Gallagher have already secured nominations to contest the election, which takes place on 27 October.