'Front-line cuts' prompt Unison strike on 5 October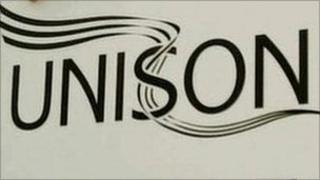 The public service union Unison has said the impact of "front-line cuts" have prompted a one-day strike by its members next month.
Union members in health and education will stage a 24-hour walk-out on 5 October.
It will affect all health workers except doctors and teaching staff.
Unison's Patricia McKeown said the executive had to rethink its strategy on budget cuts.
The education budget is facing a shortfall of £300m over four years, whilst health is facing cuts of £2.3bn.
Ms McKeown said: "We are at a critical stage in many areas, I think of one health trust that has just produced its figures.
"One hundred and fifty nurses on permanent contracts left within 12 months. They were replaced by 50, that pattern is repeated across all the occupational groups and across all of the trusts.
"Why are people waiting out there on trolleys for 21 hours? Because the staff aren't inside the service to be able to deliver.
Industrial action
"They are under extreme pressure and they do believe they have got to stand up and make the public aware of what is happening and there is more of that nature of cutback to come.
"The full executive took decisions as to where those cuts would fall in the budgets without any work done on what the impact would be at the other end."
A total of 18% of Unison members in Northern Ireland voted for strike action on 5 October.
"That is 2% more voting to sacrifice pay for one day than voted to accept significant pay rises two or three years ago on Agenda For Change," the Unison representative added.
Ms McKeown said Unison had received a number of letters from the public supporting their one-day strike and expected more trade unions to declare industrial action soon.
She said there would still be emergency provision on 5 October and that the service would "look as it might look on a bank holiday".