Londonderry woman stole £500 from disabled pensioner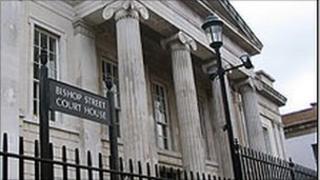 A woman who stole £500 from a disabled pensioner has been sentenced to six months' jail suspended for three years.
Christine Crossan, 45, from Baldric Crescent, Londonderry, admitted taking the money from the pensioner's bank account.
The court heard she regularly drove the disabled pensioner to a post office.
She had been entrusted with the pin number for the account and in May and June last year, she withdrew extra cash which she pocketed.
A defence solicitor said Crossan, a single mother of two, had been so ashamed at what she had done, that she tried to take her own life.
Londonderry Magistrates' Court heard that she admitted four charges in May and June last year - and took a total of £500.
On Thursday, Crossan lodged the money in her bank account to pay the pensioner back.
A judge said the theft was "an appalling breach of trust".
He told Crossan if she did not repay the money in six weeks, she would go to jail.