Foyle Food Group pre-tax profits increase to £3.3m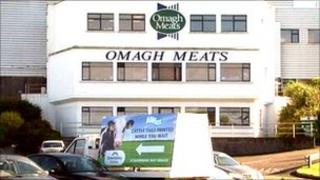 Foyle Food Group, which is one of Northern Ireland's biggest meat processors, has reported increased pre-tax profits despite a dip in turnover.
In 2010 the firm made £3.3m on turnover of £217m; in 2009 pre-tax profits were £2.6m on turnover of £237m.
The company's directors said it had been a satisfactory performance in a "challenging" economic environment.
The company which has abattoirs in Campsie, Omagh and Donegal is a major supplier to Tesco.
During 2010 the group stopped processing lambs at its facility in Campsie, saying a fall in the number of lambs available meant it was no longer economical to do so.
In April this year it announced it was also ending the production of pigs at the same facility.
Employment at the group fell from around 800 in 2009 to 750 last year.
In recent weeks the firm has faced industrial action at its plant in Omagh in a dispute over the restructuring of several departments.
A £2.7m dividend was paid to shareholders in in 2010 compared to a £9.8m dividend the year before. The firm is ultimately controlled by the Acheson family.