County Derry property developer declared bankrupt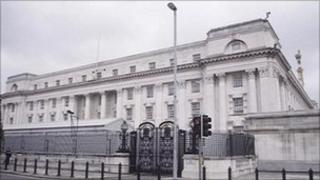 A County Londonderry property developer, whose firm collapsed in 2010, has been declared bankrupt.
Colin Fletcher owned CRF Developments which bought property in the Portrush and Portstewart areas.
The firm had planned a major development on Portstewart promenade but the business got into financial difficulties.
Ulster Bank then appointed an administrator to assess the company.
In May, a report from the administrator estimated that at the time CRF Developments failed, it owed the bank almost £16m.
However, the sale of its properties will only raise an estimated £5m - leaving the bank with a loss of more than £10m.
Mr Fletcher, who has an address in Portrush, was declared bankrupt last week after a creditors' petition was lodged at the High Court.
The administrator said none of the property portfolio has yet been sold as it had taken time to resolve "a number of legal and practical issues".
However, he added that a number of parties had expressed interest in particular properties and several offers had been received.
The administrator also said it would not be of benefit to creditors to try to develop the firm's land bank.
The Northern Ireland property sector was badly hit when the property bubble burst.
Several prominent developers have been bankrupted after they were unable to repay huge bank loans.