Derry man Gary McLaughlin punched and spat at paramedics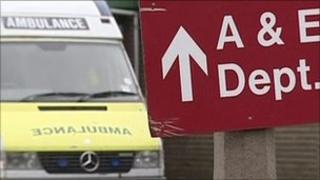 A man who repeatedly punched and spat at two female ambulance officers taking him to Altnagelvin Hospital has been jailed for 28 days.
Gary McLaughlin, 19, from the Old Fort in Strathfoyle, Londonderry, pleaded guilty to two charges of assaulting the officers in the early hours of 4 June.
The ambulance was called to a house party by McLaughlin's friends who were worried about his drunken condition.
En route to the hospital, McLaughlin spat at and lashed out at the officers.
Defence solicitor Keith Kyle said McLaughlin was ashamed, embarrassed and remorseful for his behaviour.
He said McLaughlin was so drunk he remembered nothing about his actions.
However District Judge Mervyn Bates told Londonderry Magistrates Court anyone who assaulted ambulance crew members had to accept the consequences of their actions.
He said custody in the case was unavoidable and he jailed McLaughlin for 28 days.
John McPoland of the Ambulance Service said the courts should take a zero tolerance approach to such violence.
"It might be very easy to go to court and express remorse and say they have no recollection of what happened," he said.
"What we need them to be aware of is that if they do assault our crews, the consequence of this may result in them getting jail time.
"We find that a very welcome move."