We must deal with our Troubles legacy: Long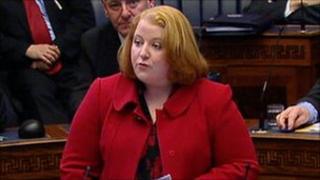 Alliance MP Naomi Long has called on the Secretary of State to hold talks to discuss how best to deal with the legacy of the Troubles.
The Irish Presidential election and offer of compensation to the Bloody Sunday families has again raised the problems of dealing with Northern Ireland's past.
The East Belfast MP wants all-party talks on the issue.
She said that dealing with Troubles' legacy cannot be ignored.
"Over the past week, we have seen how the past continues to cast a long shadow over our future, reasserting itself in ways and at times of its own choosing, and that will continue if we do not address the issue," she said.
Sinn Fein's Martin McGuinness has had to deal with difficult questions about his IRA past since announcing his candidacy for the Irish Presidency.
There has also been a mixed reaction to the offer by the MoD of compensation to the families of those killed or wounded by the army in Londonderry on Bloody Sunday in 1972.
"I am calling on the Secretary of State, Owen Paterson, to convene talks as soon as possible amongst parties here to get started on agreeing a way forward," said Mrs Long.
"He has acknowledged that political consensus is required to take the process forward and that, on this most sensitive of issues, such consensus will be hard to achieve.
"It needs to be actively pursued with local parties and I believe the Secretary of State has a duty to drive that process forward. Convening a meeting with local political parties would be a good starting point."
The Alliance MP would also like to see some of the recommendations from the controversial Eames-Bradley report implemented to help victims and their families move on.
"Sadly, the controversy which surrounded the proposed £12,000 recognition payment entirely overshadowed the rest of the Eames-Bradley Report, which whilst not perfect, provided a credible basis on which a process could be built.
"The central recommendation for a legacy commission with four separate elements of reconciliation, investigations, information recovery and thematic issues, offered a structure which could give coherence to those elements of existing good practice and in a context focused on building a shared future."