UVF supergrass trial: Judge accuses lawyers of 'waste'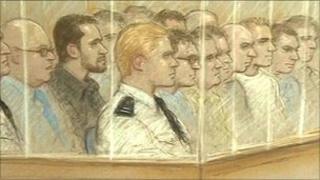 The judge hearing the UVF supergrass trial in Belfast has accused barristers of wasting public money.
He made his comments as the trial rose early for the second day in a row. Key witness Robert Stewart is still ill.
Mr Justice Gillen criticised the prosecution for the court having to stop early because they did not have enough witnesses lined up.
He also attacked the defence teams for not agreeing on the evidence of witnesses which were not challenged.
The judge said valuable court time was being wasted because witnesses, many of them police officers, were being called to appear in person when there was no real need for them to attend.
He was anxious he said, to avoid any waste of public money.
Part of the cost of the trial has been the provision of a separate room in a different building for the relatives of victims to keep track of court proceedings.
Sometimes in recent days, no-one has been using the facility at all.
Robert Stewart is due to return to give evidence on Monday.
If for any reason he does not appear, the prosecution has indicated it intends to call his brother, and fellow supergrass, Ian Stewart, the following day.
Fourteen men, including alleged former north Belfast UVF leader Mark Haddock, are on trial facing a range of offences.
Nine of them are accused of being involved in the murder of UDA man Tommy English.
Both the UVF (Ulster Volunteer Force) and UDA (Ulster Defence Association) are loyalist paramilitary groups responsible for the murder of hundreds of people during the Troubles.
The trial is the biggest and most expensive to be held in Northern Ireland for many years.
The 14 defendants are being represented by 24 barristers and eight firms of solicitors and the trial is expected to last for 11 weeks.
The term supergrass was first used in Northern Ireland in the 1980s when a number of terrorist suspects were convicted on the evidence of former comrades.