Age of criminal responsibility could be increased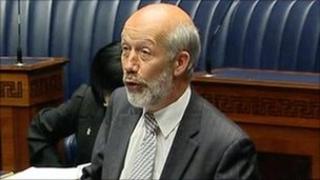 The BBC has learned that a review of the youth justice system is to recommend the age of criminal responsibility be increased to 12.
Justice Minister David Ford is to make a statement to the assembly on Monday outlining the recommendations of a review team.
Currently children aged 10 or over can be brought before courts in NI and charged with criminal offences.
That is the same as England and Wales, but out of line with much of Europe.
Scotland raised its age of criminal responsibility from eight to 12 earlier this year.
In the Irish Republic, no child under 12 can be charged, although there are exceptions for 10 and 11-year-olds suspected of very serious offences.
The review into the youth justice system in Northern Ireland was set up as a result of the Hillsborough agreement on power sharing.
The team has been working on its report since November last year.
It is understood the three-strong review team is recommending raising the age at which Northern Ireland children can be brought before the courts to 12.
The proposal will be put out for a public consultation.
Before it becomes law it would have to get cross-community support in the assembly, which could prove difficult.
When the Bill of Rights forum suggested a more radical increase in the age of criminal responsibility to 16 back in 2008, the idea caused a furore, with some unionists denouncing it as a "hoodies' charter".