Rapist William Wilkinson fails to have jail term reduced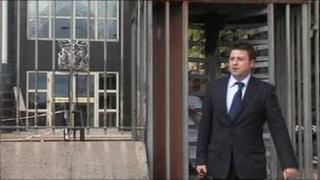 A former Ballymena councillor who was jailed for seven years for raping a woman in her home has failed to have his sentence reduced.
William Wilkinson, 33, of Tully Road in Portglenone, was convicted of rape and attempted rape at a trial in May 2010.
The attack happened in the home of his victim who was described as "vulnerable".
The Court of Appeal ruled the sentence was justified because of aggravating features in the sexual assault.
A panel of three senior judges also refused to authorise an attempt to bring a challenge to his conviction before the Supreme Court in London.
They pointed out that he knew his victim had been ill earlier on the night of the attack in August 2008 and that he compounded his offence by trying again to have sex against her will soon after.
The former councillor in Ballymena, who was a Democratic Unionist Party (DUP) member until leaving in protest at the decision to share power with Sinn Fein, claimed the woman had consented to sex.
The assault happened after the pair had been out drinking together in a bar and north coast nightclub.
During the trial the woman said she grabbed a bedside phone and dialled 999 as the attack was carried out on her.
Denial
A recording of the call was played to the jury and included her repeatedly saying: "Get off me."
Wilkinson denied any 999 call happened during sexual activity between the pair and claimed the woman made it when she was alone.
He alleged that it was staged to get him out of the house following a row between them.
Following a failed attempt to have his conviction quashed Wilkinson's legal team argued on Thursday that the seven year sentence was "manifestly excessive".
His barrister argued that too much emphasis had been placed on an incident earlier on the night of the rape where the woman fainted while she was out with Wilkinson.
But Lord Justice Girvan ruled that the trial judge had "got it right", with the attempted rape classed as an aggravating feature.
"The victim clearly was a vulnerable individual," he said.
"It was clear to the defendant that the victim had been ill earlier on, not very long before these events that evening.
"That was the situation in which the defendant found himself, in which he insisted on having sexual intercourse with her against her will.
"The fact that a victim has been suffering in the course of the relevant period from ill health can be an aggravating feature in relation to the culpability of the offender who presses on with a sexual act of this nature," he added.