Irish surfers on board for Euro triumph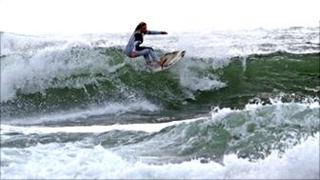 When Hurricane Katia arrived on the Irish coast, it was largely viewed as an unwelcome visitor.
Torrential rain and gale force winds pounded the coastline for days.
But Portrush surfer John McCurry was one of the few people who wasn't complaining.
"I think surfers are the only ones glad to see bad weather," he said.
"Katia brought such good waves for us and we've been reaping the rewards."
John is one of 13 athletes representing Ireland at the European Surfing Championships in Bundoran this weekend.
The town is famous for its perfect reef breaks - and as 16 teams from across Europe take to the water, the pressure is on to live up to that reputation.
The right conditions are paramount to the success of the Eurosurf event, so Katia stirred things up at exactly the right time.
"It was flat for most of the summer so the last few weeks have been great," said John.
"I've always been confident that we'll have the right conditions. We get more swell than any other country in Europe, along with France."
'Home break'
"Everyone has been surfing really hard. And a lot of the team has been in Bundoran training on the contest site, so I'm hopeful that will give us an edge," added John.
"I think the team is more passionate this year considering we'll be surfing in front of a home crowd. That has ramped things up a few notches."
The last Eurosurf contest to take place in Bundoran was in 1997.
One person who is glad to welcome it back is University of Ulster graduate - and Bundoran woman - Shauna Ward.
She is one of three women competing on the Irish team, along with Ashleigh Smith and Easkey Britton.
"I am delighted at the chance to represent Ireland in my home town," she said.
"I grew up surfing these waves every day. Travelling and surfing in other countries made me appreciate how beautiful our coastline is."
Ireland ranked eighth at the last Europeans in Jersey in 2009.
Shauna is confident the team can improve on that performance this year by capitalising on their local knowledge.
"We are really solid, everybody is very focused, surfing really well and excited to be surfing such a big event on our home break."
John and Shauna are hoping for a swell of support from the public as they attempt to eclipse the performances of their surfing rivals.
Along with displays from some of the world's best wave riders, spectators will also be treated to arts and movie events as well as concerts by bands including Kila and Royseven.
While the entertainment line-up will keep the crowds busy, there are just three things on Team Ireland's agenda for the next 10 days - eat, sleep and surf.