Firefighters hit and spat on in Pilot Street, Belfast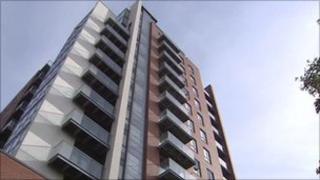 A firefighter has suffered a minor arm injury after he was attacked by two women at an apartment block in the Sailortown area of Belfast.
The Fire Service went to the building at Pilot Street at about 2300 BST after a fire alarm was set off.
A spokesperson for the Fire Service said that other firefighters were slapped and spat on.
Two women, aged 20 and 21, were arrested. The 20-year-old has been freed on bail.
It is understood the injured firefighter was taken to hospital with minor damage to his elbow.