Karen Coyles's family wait for her body to be repatriated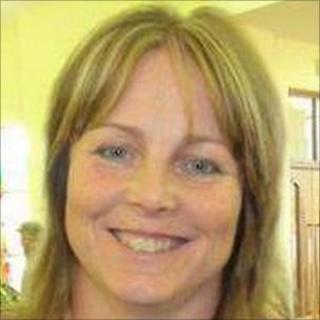 The family of Karen Coyles, whose body was found off the coast of Scotland last week, are waiting for news on when her body will be repatriated.
A land and sea search began after the 47-year-old from Ballycastle, County Antrim, disappeared on 11 September.
Strathclyde police confirmed on Saturday that a body found on the Mull of Kintyre on Thursday was Ms Coyles.
They said her death was not being treated as suspicious.
Sean McCarry, from the Community Rescue Service, led the search for Karen and spent a lot of time with the Coyle family since her disappearance.
"It is a four-day bank holiday in Scotland and this almost slowed the process down," he said.
"But thanks to the sterling work of some local government officials, local MLAs and the PSNI, the process was speeded up.
"Hopefully the repatriation of Karen's body back home for burial will happen speedily.
"Hopefully it will be today or tomorrow."
Ms Coyles' family said they were "devastated" by the news that the remains found on a beach on the Mull of Kintyre were Karens.
A post-mortem examination and identification process were carried out on Saturday.
'In our hearts'
In a statement Ms Coyles' relatives thanked "family, friends and searchers" for "all the kind words, prayers and support received throughout the search for Karen".
"We are devastated at the loss of a beautiful, talented and beloved daughter, sister, sister-in-law, aunt and friend, but are comforted in the knowledge that Karen is now safe in the arms of her beloved mother.
"She will always and forever be in our hearts."
The statement said the family had been "overwhelmed by the generosity" of the people of Ballycastle and the surrounding areas.
In particular they thanked the Gaelic Athletic Association (GAA) community, who came out in their hundreds to help search for Ms Coyles.
'Saddened and shocked'
Ms Coyles was reported missing after she failed to show up for work at the Biomedical Sciences Research Institute at the University of Ulster in Coleraine on 12 September.
Her car was later found at the gates of McQuillan's GAA club where she played camogie.
Professor Hugh McKenna said the university was "saddened and shocked" to hear of Ms Coyles's death.
"She was a highly valued, popular and respected member of staff who made an excellent contribution to the work of the School of Biomedical Sciences Research Institute.
"Our thoughts and prayers are with Karen's family at this tragic time."
Ms Coyles was chairperson of the Ballycastle Camogie Club and had just returned from Dublin, where she and her team had been playing a match, when she disappeared.
She had captained the winning team in the all-Ireland camogie sevens tournament.