Shots fired at car in Killinchy, County Down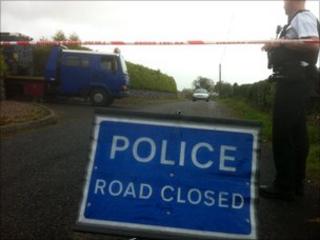 Two people have been left badly shaken after shots were fired at their car in County Down.
A passenger in another vehicle got out and fired a number of shots on the Derryboy Road in Killinchy just after 23:00 BST on Saturday.
No-one was injured in the incident.
A police checkpoint has been put in place at a house on the Derryboy Road and a blue landrover has been removed for examination.
A cordon has been placed around the property.