£100k in legal aid for 12 July riot cases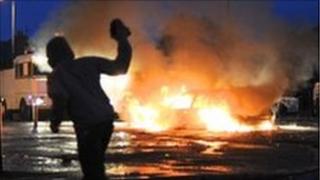 More than £100,000 has been spent on legal aid for court cases relating to rioting over the Twelfth of July period last year.
The figures emerged in a question from DUP MLA Lord Morrow to Justice Minister David Ford.
A total of £46,346 has been paid in representation at magistrates courts, with £67,241 spent at the crown court.
A total of £2,546 was spent on advice given at the police station, with £318 of payments in the county court.
Mr Ford said bills in respect of crown court proceedings have only been submitted in relation to 18 out of 29 defendants.
Lord Morrow said he was "disgusted" at the amount of money which had been spent on legal aid for the court cases.
"One of the best ways to drive down the crime rate would be to start making it harder to get legal aid," he said.
"As far as these costs go, they are the tip of the iceberg in what riotous behaviour is costing the taxpayer when one counts the repairs to damage caused and policing expenditure to name but a few."