Halifax £100,000 prize draw excludes Northern Ireland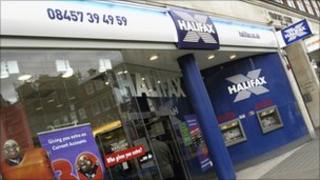 Savers at the Halifax Bank can enter a monthly prize draw from December which could see them win £100,000 - unless they live in Northern Ireland.
The draw is open to those with savings of at least £5,000 at the bank, but because of gambling laws Northern Ireland is excluded.
The NI gambling law "prohibits promotional, non-skill, prize draws linked to the purchase of a product".
In the rest of the UK, the law has been relaxed in recent years.
A spokesperson for the Lloyds Banking Group said: "Due to the legal jurisdiction of the Gambling Act (2005) only customers who are resident in England, Scotland and Wales are eligible to participate in the draw.
"Specifically, due the a different legislative framework, the draw cannot be opened to Halifax saving customers who are resident in Northern Ireland."
The Department of Social Development said: "The effect of the legislation is that GB based companies offering promotional prize draws through the purchase of a product are obliged to either exclude Northern Ireland or offer a free entry facility to all Northern Ireland residents."
They said the gambling law was currently under review.
Paul Lewis, the presenter of the BBC's Moneybox programme, said the draw was a gimmick "but I'm sure it will be a very popular one in the rest of the UK".
He said Northern Ireland savers who would be eligible for the draw "are being short-changed and from a PR point of view Halifax should sort this out for the people of Northern Ireland".
One saver, who has been with Halifax for 20 years, told Radio Ulster Northern Ireland's exclusion from the draw was a disgrace.
"I think it's disgraceful that they won't give us the draw we're entitled to," he said.