UVF supergrass trial: Robert Stewart back in box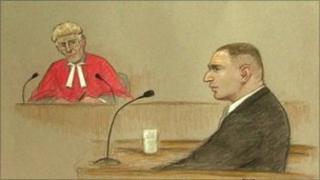 A key witness at Belfast's UVF supergrass trial has been questioned about his mental state at the time he was questioned by police.
Robert Stewart is testifying against 14 men, including alleged former north Belfast UVF leader Mark Haddock.
On Monday, he took exception to a defence QC continually reminding him he had once described himself as having "pixies running around in his head".
Stewart asked the judge how often he would be questioned on the matter.
State of mind
Throughout the trial, Stewart has insisted he was nervous and under the influence of prescription drugs during the initial interviews with police in August 2008 after he had turned himself in.
Defence barrister Charles Adair contrasted this with a doctor's report from the time saying Stewart was alert and lucid.
Mr Adair suggested Stewart had been lying about his state of mind throughout the trial.
Stewart maintained the phrases he had used to describe his state of mind were "just a comment" and that the police "seemed quite happy I was telling the truth".
He also repeatedly told the court that he had "no reason to lie" and that he was not "pretending... professing to be something I am not".
He accused Mr Adair of simply trying to "pick holes" in his evidence.
Illness
Monday was Stewart's first day back in the witness box after missing a number of days last week due to illness.
Nine of the men he is testifying against are accused of being involved in the murder of UDA man Tommy English.
Mr Adair spent much of Monday afternoon questioning Stewart over his memory of Darren Moore's alleged involvement in in the murder of Mr English.
The barrister said that Stewart now said that Mr Moore had driven the gunmen's car but had failed to mention it on nine previous occasions.
Stewart said that it did not matter "if it was 99 times - I just simply forgot".
He added: "How many times do you want me to say I forgot Moore was there?".
On another occasion, when it was put to him that Moore's role in the shooting was not something he would have easily forgotten, he replied: "Well, you say I forget everything".
'Word for word'
Stewart also repeatedly complained about being taken through his police questions, "word for word" and asked if he was "going to be at it all day".
When told yes, he informed Mr Adair, "well you are going to get the same answer - whether you like it or not".
On occasions, he asked Mr Justice Gillen if he had to answer the questions put to him, only to be told he had to.
"Can I not answer this all in one go?" he asked.
Both the UVF (Ulster Volunteer Force) and UDA (Ulster Defence Association) are loyalist paramilitary groups responsible for the murder of hundreds of people during the Troubles.
The trial is the biggest and most expensive to be held in Northern Ireland for many years.
The 14 defendants are being represented by 24 barristers and eight firms of solicitors and the trial is expected to last for 11 weeks.
The term supergrass was first used in Northern Ireland in the 1980s when a number of terrorist suspects were convicted on the evidence of former comrades.