Northern Ireland Red Kite project hailed success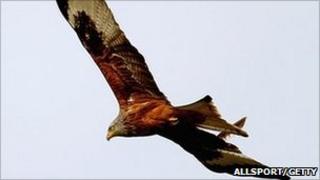 Four years after being reintroduced to Ireland, 16 pairs of Red Kites have successfully bred to fledge 25 young in Counties Down and Wicklow.
The species was made extinct in Ireland in the 18th century, mainly due to human persecution.
They were reintroduced by the RSPB and Golden Eagle Trust.
The RSPB said it was thrilled that, from having no Red Kites in Northern Ireland four years ago, there was now a fledgling breeding population.
"It has been a real labour of love and so many people have contributed to this process," Adam McClure, RSPB Red Kite officer said.
"The return of Red Kites to our skies is a tribute to all of them.
"Most important was the co-operation given by local farmers who have been extremely supportive; the fact that the Ulster Farmers' Union now has the Red Kite on their logo is superb."
Despite the successes, however, it has not all been good news for Red Kites.
Since the project began in Northern Ireland in 2008, they have suffered a number of losses due to misuse of pesticides in the countryside.